Address
Avenida Paulista, 2424
São Paulo, SP – Brazil
Visiting hours
Tuesdays to Sundays 12pm–6pm. Always closed on Mondays
Admissions
Free for the cultural center and exhibitions
Get in touch
By phone +55 11 2842-9120
By email imspaulista@ims.com.br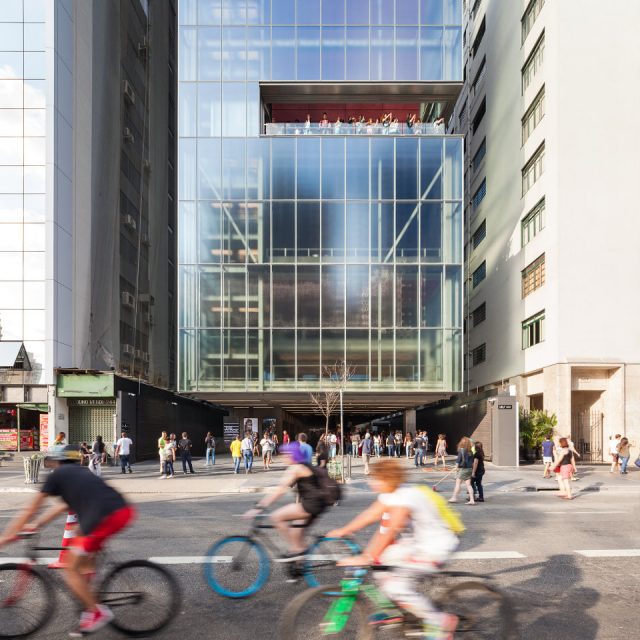 Pedro Vannucchi/IMS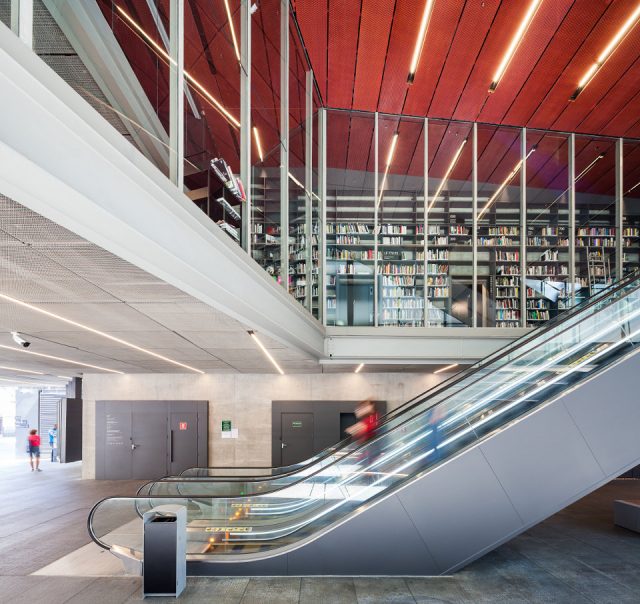 Pedro Vannucchi/IMS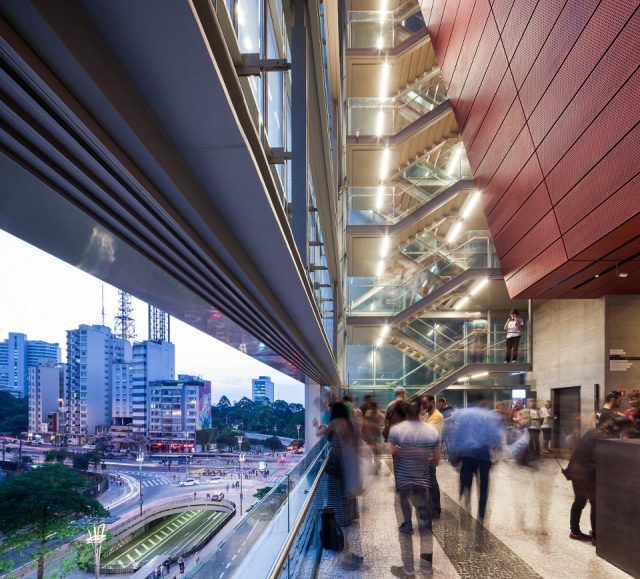 Pedro Vannucchi/IMS
Consolidating its presence in São Paulo, the most important cultural scene in Brazil, IMS opened its new address in September 2017: 2424 Paulista Avenue, sprawling over seven double-height stories. In addition to the exhibitions spaces, with over 1,200 sq. mts., IMS Paulista also offers a cine-theater – for film screenings, musical events, lectures and debates –, a photography library, classrooms, a book shop, a cafe and a restaurant.
Avenida Paulista, 2424
Bus lines
Praça do Ciclista bus stop, at Avenida Paulista, right in front of IMS:
669A-10 Terminal Princesa Isabel
917H-10 Terminal Pirituba
875A-10 Perdizes
N506-11 Metrô Vila Madalena
175P-10 Metrô Santana
874T-10 Lapa
805L-10 Aclimação
874C-10 Metrô - Trianon - Masp
917M-10 Morro Grande
975A-10 Vila Brasilândia
875H-10 Term. Lapa
875P-10 Metrô Barra Funda
877T-10 Vila Anastácio
Paulista Bairro/Centro, at the Rua da Consolação Street and Avenida Paulista crossing, a 2-minute walk from IMS:
178L-10 Lauzane Paulista
N801-11 Terminal Parque Dom Pedro II
7545-10 Praça Ramos de Azevedo
702C-10 Metrô Belém
778R-10 Terminal Princesa Isabel
7272-10 Praça Ramos de Azevedo
8700-10 Praça Ramos de Azevedo
702U-10 Terminal Parque Dom Pedro II
7458-10 Estação da Luz
8705-10 Anhangabaú
7903-10 Praça Ramos de Azevedo
701A-10 Parque Edu Chaves
909T-10 Terminal Parque Dom Pedro II
7267-10 Praça Ramos de Azevedo
7282-10 Praça Ramos de Azevedo
7411-10 Praça da Sé
8700-21 Praça Ramos de Azevedo
7281-10 Praça Ramos de Azevedo
Subway
Subway stations Consolação (Line 2 - Green), in Avenida Paulista, and Paulista (Line 4 - Yellow), in Rua da Consolação, are less than a 5-minute walk from IMS Paulista.
Bike path
The Avenida Paulista bike path goes right in front of IMS, almost at the crossing with Rua da Consolação. The cultural center offers a bike parking space open 10am-8pm.
Parking
IMS Paulista only offers parking for people with disabilities. There is a free bicycle parking space open10am-8pm.
The exhibitions and visitation to IMS Paulista are free admittance, but you must book in advance.
We want to help you make the most of your visit. IMS Paulista has a fixed route that will be given to you in advance when you schedule your visit, and at the entrance. Only one entry will be allowed per person at the gallery, per visit. After leaving the gallery, you will not be allowed back inside.
Access to the sculpture Echo, by Richard Serra, is free, and it may be visited after your route through the exhibition galleries and other spaces.
Mario Cravo Neto: Espíritos sem nome
MARIO CRAVO NETO: NAMELESS SPIRITS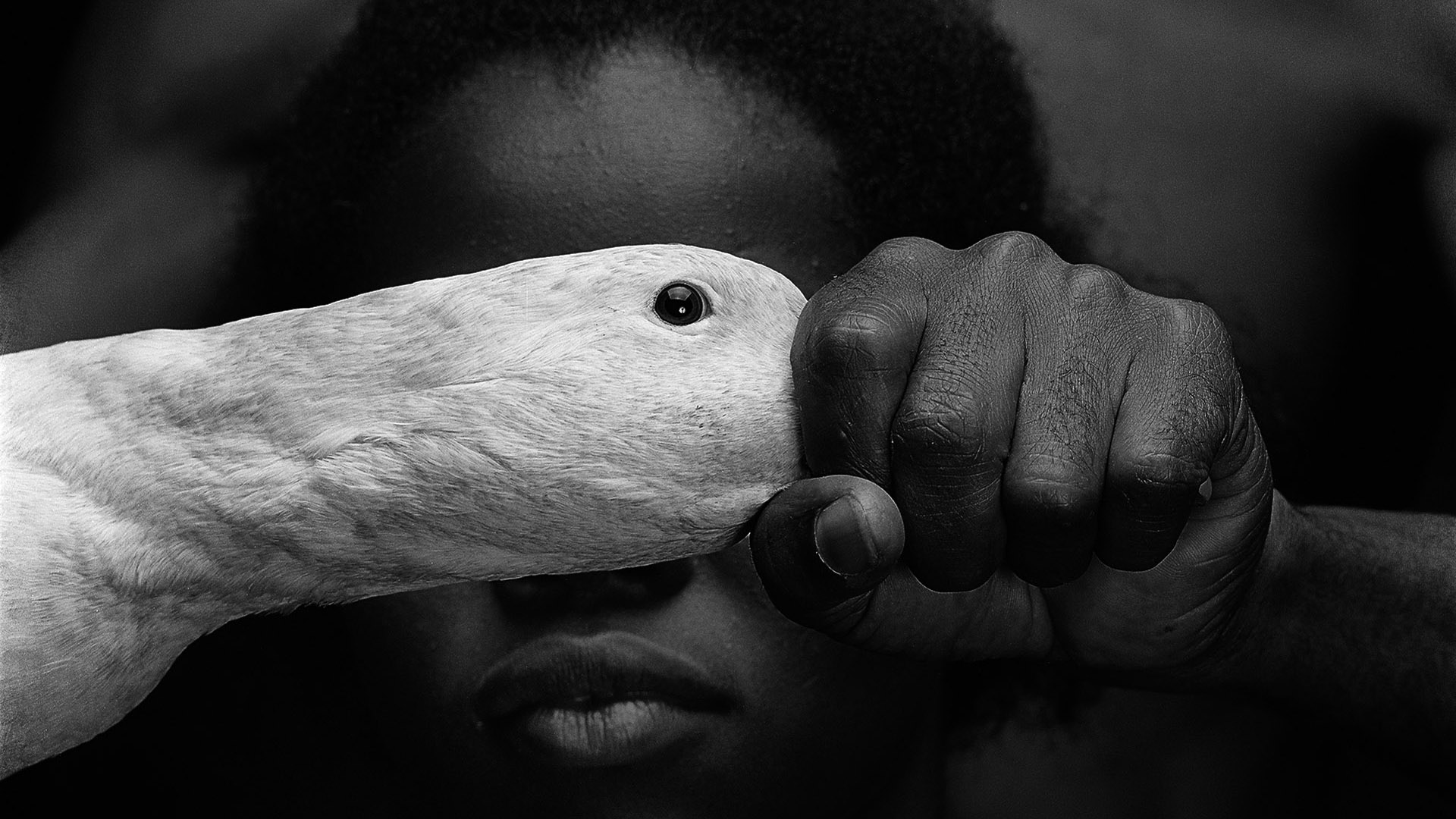 Dates
May 1st – Sep 26th, 2021
Curators
Luiz Camillo Osorio, assisted by Mariana Newlands
Info in Portuguese
The exhibition is the result of a partnership between the Instituto Moreira Salles and the Instituto Mario Cravo Neto, bringing together about 100,000 images by the photographer. For the exhibition, approximately 250 photographs were selected from this collection, in addition to sculptures, illustrated notebooks, letters, and photographs from original printings of the artist. His career began in the mid-1960s, but it was after he spent a year in New York between 1969 and 1970 that his work acquired real experimental power. From the 1970s until his premature death in 2009, Cravo Neto's work experienced different moments, exploring many atmospheres, textures and themes.
Madalena Schwartz: As metamorfoses
MADALENA SCHWARTZ: THE METAMORPHOSES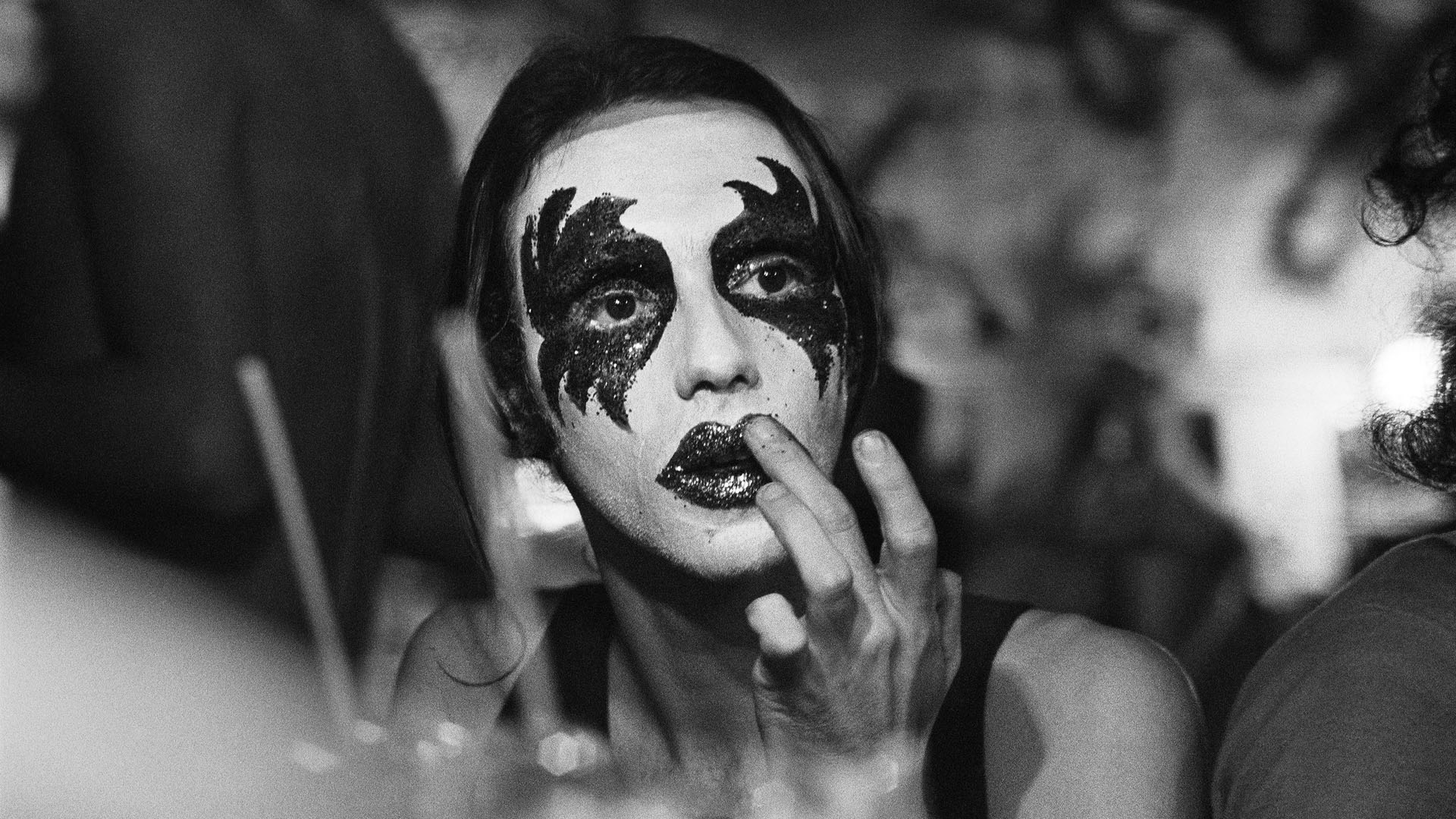 Dates
Feb 9th – Sep 26th, 2021
Curators
Gonzalo Aguilar and Samuel Titan Jr., assisted by Beatriz Matuck and Tiê Higashi
Info in Portuguese
A celebration of the centenary of Madalena Schwartz (1921-1993), the exhibition features the photographer's visual essay shot among cross-dressers and drag queens in the alternative circles of São Paulo in the first half of the 1970s, amid the military dictatorship. There are portraits of personalities such as Ney Matogrosso and the members of the Dzi Croquettes group, who remain notorious to this day. In conversation with Schwartz's images, the exhibition outlines a brief overview of Latin American photography dedicated to the same subject matter, with works by various collectives and authors from countries such as Argentina, Chile and Bolivia.
Echo, de Richard Serra
Richard Serra's Echo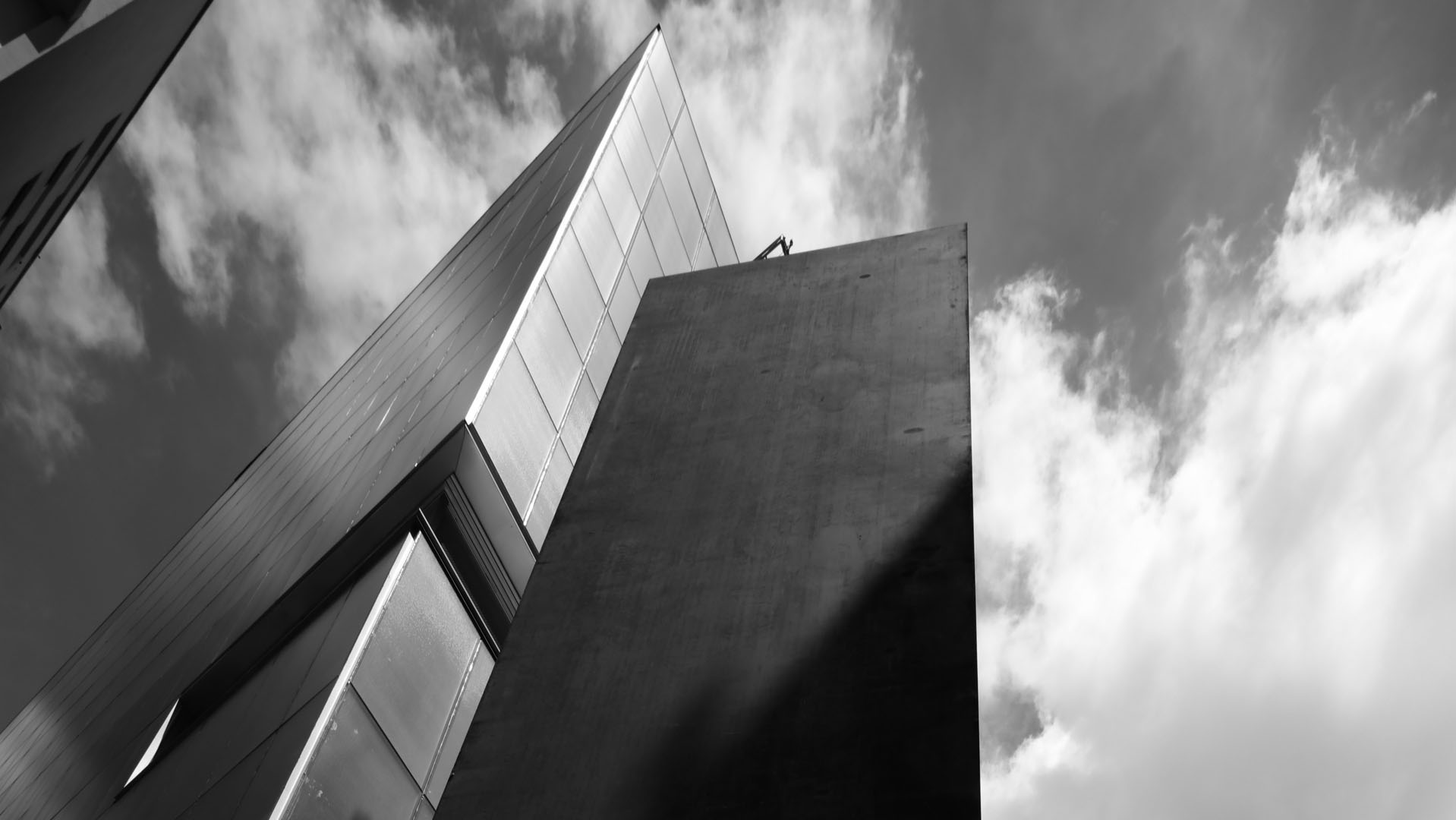 The first sculpture of American artist Richard Serra open for public and permanent visitation on Latin America, Echo (2019) was inaugurated on IMS Paulista on February 23rd, 2019.
Comprised of two 18.6 meters high steel plates, each weighing in at 70.5 tons – a reflection of the balanced tension between weight and lightness featured on Serra's work – Echo was created specifically for IMS Paulista and it's currently installed on its outer garden, right behind the Balaio restaurant.
The sculpture adds up to other monumental works by the artist on permanent exhibition throughout the world, all integrated within urban spaces or nature.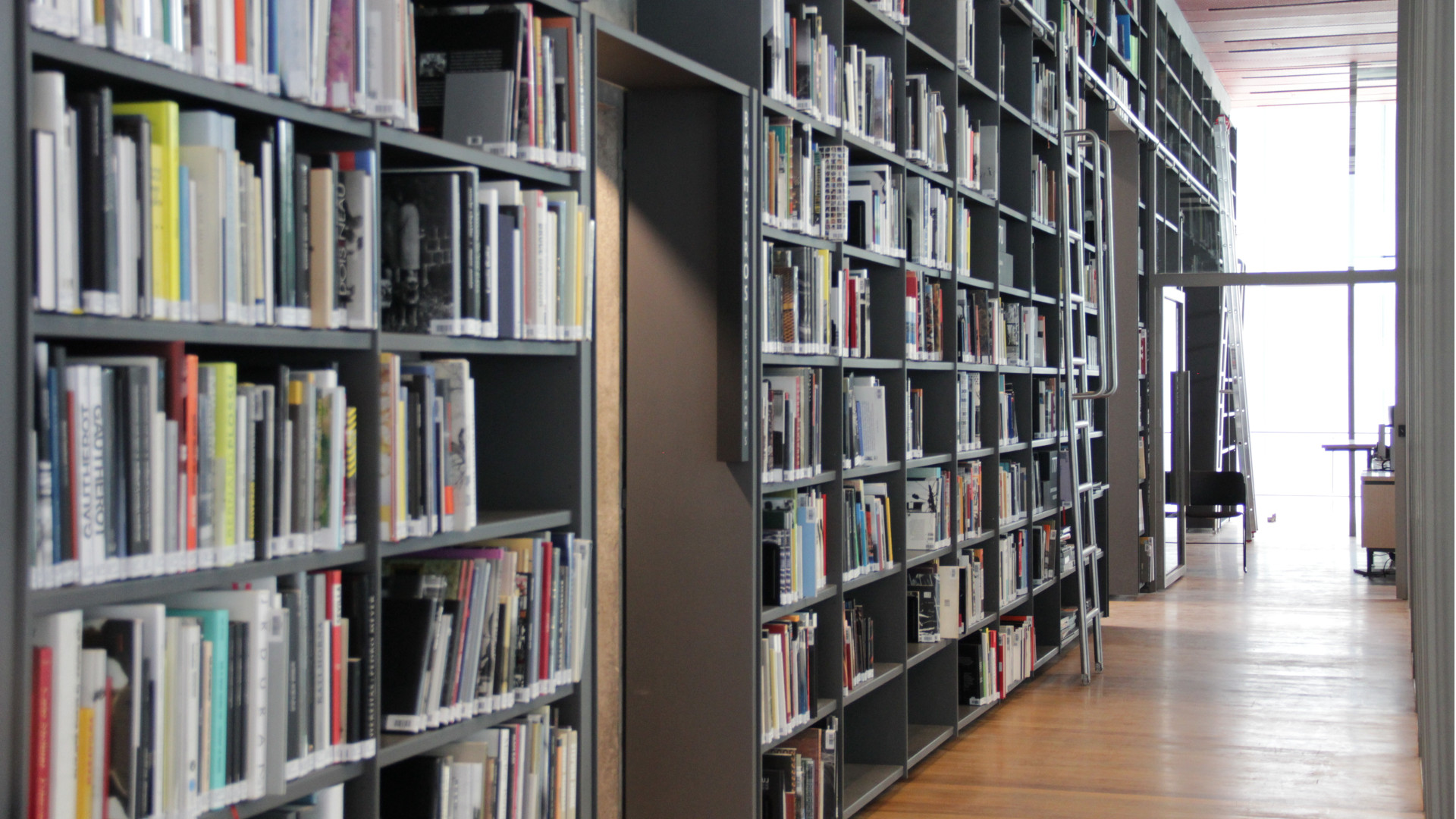 The IMS Paulista Photography Library is unique in Brazil. With a capacity for 30,000 items, it aims to encourage research in photography and to contribute towards an understanding of photography in its various modes of expression. The collection is comprised of publications of and about photography, contemplating also its forays into cinema, fashion, the visual arts and humanities. In addition to the general works collection, selected by the curatorship, the library houses special collections by names such as Stefania Bril, Thomaz Farkas, Iatã Cannabrava, Vania Toledo and Gerhard Steidl.
Opening hours
Tuesdays to Sundays 11pm–7pm. Always closed on Mondays.
Booking in advance is mandatory, temporarily restricted to researchers only.
By email
biblioteca.fotografia@ims.com.br
Use of face masks in public is mandatory in the State of São Paulo (State Decree n. 64.959, of May 4, 2020). Every visitor at IMS Paulista must wear a face mask, including children (starting at 6 years old).
If you are not feeling well, stay home. Everyone will have their temperature taken out upon arrival, and whoever has body temperature of 37.5 ºC (99.5 ºF) or higher will not be allowed inside.
Hand sanitizer is available at the entrance and in all other areas. You may use it whenever you wish. Sanitize your hands frequently and avoid touching your face, your eyes or your mask. There is also a sanitizing mat at the entrance for your shoes.
Cleaning of restrooms, elevators, contact surfaces and all other areas will be intensified.
Keep a distance of 2 meters (6 feet) from other people.
As we will not offer lockers, do not bring your backpack, but rather a lightweight bag that can stay with you for the duration of the visit.
The bicycle racks at IMS Paulista will be available for anyone with a scheduled visit during visiting hours.
We want to help you make the most of your visit. IMS Paulista has a fixed route that will be given to you in advance when you schedule your visit, and at the entrance. Only one entry will be allowed per person at the gallery, per visit. After leaving the gallery, you will not be allowed back inside.
* * *
Accessibility
There is directional signaling and elevators for access to all visitation spaces. We offer a wheelchair and parking spaces for people with disabilities. Guide dogs are welcome.
Lost and found
Any lost objects must be turned in to the reception counter at Praça IMS.
Wi-Fi
IMS Paulista offers free Wi-Fi internet connection.
Bookshop
Tuesdays to Sundays 12pm–6pm. Always closed on Mondays
IMS Por Travessa, at Praça IMS, carries photography books and IMS products including books, catalogues and DVDs.
Restaurant
Balaio IMS
Tuesdays to Thursday 12pm-4pm.
Fridays and Saturdays 12pm-4pm, and 7pm-10pm.
Sundays 12pm-17pm.
Always closed on Mondays.
Delivery service available.
* * *
IMS Paulista does not allow film and photographic records using the building as location, and does not rent or offer its premises for any activities, events or projects by third parties.
Personal photography is permitted, without flash or other professional equipment. Taking pictures will not be allowed in some of the photography exhibitions due to copyright restrictions. Share your picture on Instagram using the #imspaulista tag.
Pets are not allowed. Guide dogs are welcome.
Parents or responsible adults and teachers must always accompany children during school and group visits. IMS educators, guards and receptionists will alert the adults in charge when children are near dangerous spots or if their behavior is deemed inconvenient to other visitors.
By entering the premises of IMS Paulista, visitors authorize the use of records of their image during visitation for archive, documentation, publicity and broadcasting purposes, as well as other unforeseen uses.
IMS is following all recommendations by municipal and state authorities, as well as by health organizations, but we cannot guarantee you will not be exposed to the SARS-CoV-2 virus. By entering our premises, you accept the risk of exposure.