Carolina Maria de Jesus, 1960. Picture by Henri Ballot for
O Cruzeiro
magazine, Dec 31st 1960, issue #12 Carolina Maria de Jesus, 1960. Picture by Henri Ballot for
O Cruzeiro
magazine, Dec 31st 1960, issue #12
Exhibition
Sep 25th, 2021–Apr 3rd, 2022. This exhibition is now closed
IMS Paulista
Avenida Paulista, 2424 São Paulo/SP, Brazil
Intertwining different languages, the exhibition Carolina Maria de Jesus: Brazil for Brazilians presents the writer's trajectory and output, highlighting little-known aspects of her life and work, underscoring the importance of her literary project and her legacy as an interpreter of Brazil.
The selection rounds up nearly 300 items, among photographs, press pieces, videos, and other documents. It also includes pieces by 60 artists, some of which were commissioned, in conversation with themes investigated by Carolina. The exhibition was curated by anthropologist Hélio Menezes and historian Raquel Barreto, assisted by art historian Luciara Ribeiro. It has also been made possible by the research work of literary critic and literature scholar Dr. Fernanda Miranda.
Divided into 13 thematic areas, the exhibition takes up two floors of the IMS Paulista building, plus some pieces on the 5th floor, on the ground floor and on Paulista Avenue. The exhibition presents the reflections of Carolina de Jesus (1914-1977) during her lifetime, from her childhood in the town of Sacramento (MG), in the wake of the abolition of human enslavement in Brazil, through her arrival at the capital of São Paulo, the publication and repercussion of her books, down to the end of her life in Parelheiros, São Paulo.
The exhibition invites the visitors to observe Carolina's interpretation of the contradictions, the politics, and the inequality in Brazil over her lifetime. It also highlights the author's historical importance in the fight against racism, the fights for literacy and housing for all, among others.
Open until January 2022, Carolina Maria de Jesus: Brazil for Brazilians will include a wide-ranging program of tie-in activities. There will be a film festival idealized by curator and researcher Bruno Galindo, among other events. An exhibition catalog with critical essays will also be published.
Curatorship
Hélio Menezes e Raquel Barreto
Curator Assistance
Luciara Ribeiro
Literature Research
Fernanda Miranda
Film and Audiovisual Research
Bruno Galindo
Exhibition Design
Isabel Xavier
Graphic Design
Estúdio Daó
Online
expocarolinamariadejesus.ims.com.br
#CarolinaNoIMS
Rio de Janeiro, RJ, Brasil
Carolina Maria de Jesus: um Brasil para os brasileiros
Museu de Arte do Rio (MAR)
June 24 to November 26, 2023
São José do Rio Preto, SP, Brasil
Carolina Maria de Jesus: um Brasil para os brasileiros
Sesc Rio Preto
October 11, 2022 to March 12, 2023
Rio de Janeiro, RJ, Brasil
Carolina Maria de Jesus: um Brasil para os brasileiros
Ocupação MAR, Parque Madureira
October 15 to December 15, 2022
Sorocaba, SP, Brasil
Carolina Maria de Jesus: um Brasil para os brasileiros
Sesc Sorocaba
June 15 to September 25, 2022
São Paulo, SP, Brasil
Carolina Maria de Jesus: um Brasil para os brasileiros
IMS Paulista
September 25, 2021 to April 3, 2022
Sep 25th, 2021 to Apr 3rd, 2022
This exhibition is now closed.
Safety protocols
Following recommendations of the city and state authorities, as well as governmental health agencies for fighting covid-19, IMS Paulista is open at reduced capacity.
Mask use is mandatory, as well as social distancing, among other measures. These protocols aim at keeping visitors and employees safe at the premises, in a healthy environment of mutual care.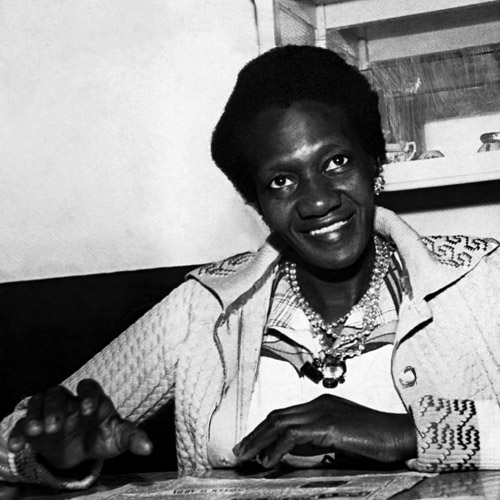 Carolina Maria de Jesus became known in 1960 with her first book, Quarto de despejo: diário de uma favelada (Child of the Dark: The Diary of Carolina Maria de Jesus), in which she recounted daily life in the Canindé favela (slum), in São Paulo. At the time she supported her family as a scrap collector. Critical and commercial success allowed her to move out from the favela and, at the same time, inspired the hostility of residents of that community, who felt themselves exposed in her work. After her second book, Casa de Alvenaria, she returned to ostracism. She died on February 13th, 1977.
Photo: Carolina Maria de Jesus, November 18th 1960. UH Collection/Folhapress