Nearby the Catrimani River, 1974. Photo © Claudia Andujar
Claudia Andujar's retrospective dedicated to the Yanonami, Native Brazilians at risk for extinction, presents hundreds of images and an installation by the photographer/activist, as well as books and documents that chronicle the trajectory of these people on their quest to survive. The exhibition, shown at IMS Paulista between January 2018 and April 2019, and at IMS Rio between July and November 2019, outlines a wide panorama of Andujar's extensive work along the Yanomami, recapturing little known aspects of the photographer's struggle for the demarcation of indigenous land, an activist aspect that led Andujar to bring her art together with politics.
The showcased material is the result of several years of research by curator Thyago Nogueira, coordinator of contemporary photography for IMS, within the institute's archives, with over 40,000 images by the artist. The exhibition can be visited at Fundación Mapfre, in Barcelona (Spain), between February 26 to May 23, 2021.
Claudia Andujar: the Yanomami struggle counted on the support and advisory of the Instituto Socioambiental (ISA) as well as the collaboration of the Hutukara Yanomami Association (HAY).
Curators
Thyago Nogueira
Valentina Tong (assistant)
Online
expoclaudiaandujar.ims.com.br
#aLutaYanomami
Press
(11) 3371-4455
comunicacao@ims.com.br
Claudia Andujar was born in Switzerland in 1931 and soon moved to Oradea, at the frontier of Romania and Hungary, where her paternal family, of Jewish origin, lived. In 1944, with the persecution of the Jewish during the Second World War, she escape with her mother to Switzerland and later emigrated to the United States to live with an uncle. In New York, she developed an interest for painting and worked as a guide at the UN headquarters. In 1955, she came to Brazil to be reunited with her mother and decided to settle down in the country, where she began a career as a photographer. Having no knowledge of Portuguese, Andujar turned photography into a tool not just for work but also for getting in touch with the country. Over the following decades, she traveled through Brazil and collaborated with national and international magazines such as Life, Aperture, Look, Cláudia, Quatro Rodas and Setenta. In 1966, she began working as a freelancer for the magazine Realidade. She received a grant from the Guggenheim Foundation (1971 and 1977) and took part in many exhibitions in Brazil and abroad, notably the 27th São Paulo Biennial and the exhibition Yanomami, at the Cartier Foundation for Contemporary Art (Paris, 2002). This year, the artist was awarded the Goethe medal of 2018 by the German government.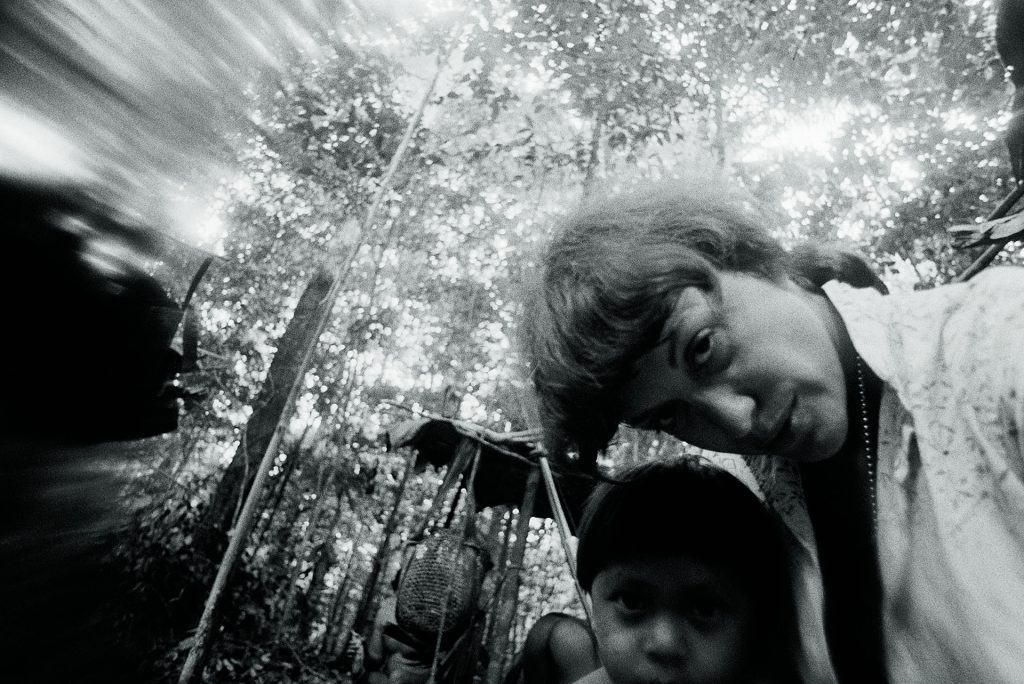 São Paulo, Brasil
Claudia Andujar: A luta Yanomami
IMS Paulista
December 15, 2018 to April 7, 2019
Rio de Janeiro, Brasil
Claudia Andujar: A luta Yanomami
IMS Rio
July 20 to November 17, 2019
Paris, France
Claudia Andujar, La Lutte Yanomami
Fondation Cartier pour L'Art Contemporain
January 30 to September 13, 2020 (reopened June 16, 2020)
Milano, Italia
Claudia Andujar: La lotta Yanomami
Triennale Milano
October 17, 2020 to February 5, 2021
Barcelona, Espanha
Claudia Andujar
Fundación Mapfre
February 26 to May 23, 2021
London, England
Claudia Andujar: The Yanomami Struggle
Barbican Centre
June 17 to August 29, 2021
Winterthur, Switzerland
Claudia Andujar: The Yanomami Struggle
FotoMuseum Winterthur
October 23, 2021 to February 13, 2022
Barcelona, Espanha
More about the exhibition: Claudia Andujar
Fundación Mapfre
February 26 to May 23, 2021
Opening night
January 30, 2020